Vacuumpump LABOPORT® N 820 G - chemical resistant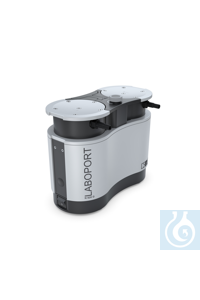 Kuva voi poiketa alkuperäisestä
Tuotenumero.: 106273452
Hinta pyydettäessä
for 1 kappale
KNF Vacuum pump, LABOPORT®,

Type N820G:

The N 820 G and N 840 G feature a control knob for manual adjustments of the flow rate, making them well suited to a wide variety of applications. Thanks to the integrated rotational speed control, the pumps are quiet, very energy efficient, and can be optimally adjusted in accordance with the application.

The chemically resistant diaphragm pumps impress with their very small footprint and save valuable space in the laboratory. The next generation of LABOPORT® pumps are equipped with an easy-to-clean surface.
Potential applications include rotary evaporation, distillation, gel drying, degassing, use by vacuum ovens and vacuum concentrators.
-    Flow rate of up to 2.04 m3/h
-    Adjustable thanks to integrated rotational speed control
-    Ultimate vacuum of 6 mbar abs
-    Combination of TFMTM PTFE pump head and PTFE-coated diaphragm makes the pumps ideal for working with extremely aggressive/corrosive gases and vapors
-    High level of compatibility with vapor and condensation
-    Integrated gas ballast valve
-    3-color status display: In operation / Stand-by / Error
-    Expandable: Separators and/or condensers can be purchased and easily fitted.
-    ATEX-compliant in accordance with   II 2/-G IIB+H2 T3 internal atmosphere only
-    100% oil-free transfer to ensure uncontaminated transfer, evacuation and compression

Tip: When combined with the VC 900 vacuum control unit and a control cable, the rotational speed is controlled in accordance with the requirements of the process. Can also be combined with all common vacuum controllers with valve control.
lisää
Luokittelu:

KNF

Artikkelinumero:

317121/313452

Kataloginumero:

106273452

Voimassa:

31.12.2023

Viime päivitys:

02.03.2023