Activated carbon filter HLA-PU-3000-SK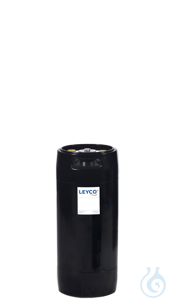 Kuva voi poiketa alkuperäisestä
Tuotenumero.: HLAPU3000SK
535,05 €
for 1 kappale
Plastic-coated stainless steel full demineralisation ion exchanger cartridge filled with grain activated carbon based on hard coal.
The pressure vessel of the ion exchanger cartridge is made of 1.4571 stainless steel, just like the distribution system. In addition, the pressure vessel has a plastic coating made of PU. The ion exchanger cartridge has two 3/4" threaded connections for feeding and removal.
The LEYCO activated carbon is made of porous, fine-grained carbon and, with its large inner surface, is ideal for industrial applications in water as well as wastewater treatment.
Application Stone activated carbon:
Drinking water treatment (removal of pesticides and herbicides; dechlorination, taste improvement and odour removal).
Power plants (deoiling of condensates)
Treatment of industrial wastewater (adsorption of BTX, mineral oils, solvents, LHKW, MKW)
Waste water treatment and groundwater remediation
Stainless steel tank with protective plastic jacket
Opening: plug round 58x1/6", POM
Foam colouring: black
Volume: max. 20.5 litres
Diameter: 239 mm
Height: 560 mm
Material: stainless steel 1.4571
incl. withdrawal and distribution system
Connections: 3/4" AG for inlet and outlet
lisää
(-) Tekninen tieto:
Halkaisija:
239 mm
Materiaali:
Ruostumaton teräs
Korkeus:
560 mm
Luokittelu:

Leyco powered by Steiner Chemie

Artikkelinumero:

HLAPU3000SK

Voimassa:

30.07.2022

Viime päivitys:

10.01.2022