RM module - rapid cooling for liquids in open vessels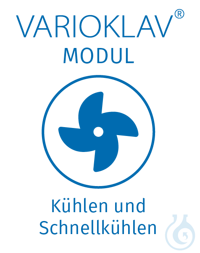 Kuva voi poiketa alkuperäisestä
Tuotenumero.: 51900801
2.728,50 €
for 1 kappale

RM module - rapid cooling for liquids in open vessels
Direct jacket cooling with demineralised water, incl. MT media temperature control and sterile aeration
For the sterilisation of liquids in open vessels and thermolabile sterile goods, we recommend our RM cooling module for rapid cooling for up to 40% shorter cooling time. The RM cooling module works with a stainless steel water cooling jacket integrated into the sterilisation chamber and a precise media temperature control including media temperature sensor for exactly adjustable withdrawal temperatures. Also integrated in the module is a sterile ventilation function that allows air to flow in via a steam-sterilisable depth filter at the end of the programme.

---
VARIOKLAV module options - cooling and rapid cooling
High-quality cooling modules not only enable significantly shorter cooling times and thus higher throughputs during sterilisation, but a high-quality recooling system also reduces the risk of hazards that can occur during the sterilisation of liquids.
All the advantages of our recooling and rapid cooling modules for laboratory autoclaves at a glance:
Our MT media temperature control for autoclaves works with a highly flexible and robust media sensor, which enables precise control of the sterilisation temperature in the medium as well as exact control of the exposure time.
Our RG radial blower measures 180 mm in diameter and operates with a power of 80 watts.
The cooling water consumption of our cooling modules averages between 15 and 40 litres per batch.
Technical problems such as a broken sensor or a short circuit are indicated directly and can be quickly remedied in the event of service.
lisää
Luokittelu:

HP Labortechnik

Artikkelinumero:

51900801

Voimassa:

31.12.2023

Viime päivitys:

06.02.2023