Autodosage - special version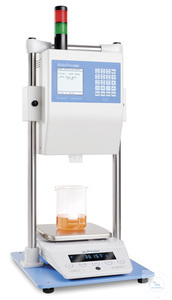 Kuva voi poiketa alkuperäisestä
Tuotenumero.: 14750
Hinta pyydettäessä
for 1 kappale
Universal dosage system AutoDosage

Special version with higher frame, required if the mounting frame including plastic storage tank is used.
The Schmidt + Haensch dosage system AutoDosage automates the routine preparation of solutions, making this work that otherwise affords high skills, great care and long time significantly easier, faster and avoiding errors.
New signal light is indicating the workflow: dosing is in progress (RED light) and dosing is finished (GREEN light).

    Automation of dosage and dilution in laboratories
    Precise and fast preparation of solutions
    Dosage and solutions with 3 or 4 different liquids
    Gravimetric (in g) or volumetric (in ml) dosage possible
    Timesaving, error free sample preparation
    Max. 70 different dosage or dilution programs can be set and stored

Standard Components    
Controller case with integrated display and foil keyboard
Solenoid valves in a housing
Dosage stand with base plate and vertically adjustable balance support plate
Software for the definition, storage and execution of the dosage and dilution tasks for specific samples 24 V power supply unit with net connection cable

Components for specific applications    
Solenoid hose compression valves and nozzles for gross, middle and fine dosage of liquids
Glass or plastic supply containers in different sizes
High quality digital balance with serial interface, resolution 0.1 g or 0.01 g resolution, weighing range 610 g, 1500 g or 2200 g

Please pay attention: This is the bbasic unit only. Please order necessary accessories like balance, supply containers and so on separately.
 
lisää
Luokittelu:

Schmidt&Haensch

Artikkelinumero:

14750

Voimassa:

30.04.2023

Viime päivitys:

30.04.2022